Working with Me
As a professional freelance writer, I want to create relevant content to inform, entertain and engage the readers of my clients' publications.
Often clients find me through an online search because they need an expert content writer. Normally, we begin a business relationship on the phone or by email. After that, we communicate primarily through email.
And, for 15 years, I've worked remotely with clients worldwide. So, distance and time zones aren't a barrier.
Depending on client preference, I work on a project fee, hourly or per-word basis. I prefer a project fee arrangement so there aren't surprises on either side. I don't quote a project rate until I understand each project's scope.
There's no one-size-fits-all package to realize your company's goals. Each job receives my full attention and the benefit of 30 years of experience.
One of my superpowers is to translate engineering or marketing speak for clients. I want to answer the question, "So what?" Another superpower is writing in your company's voice and tone. My work sounds like you, not me.
My objective is to transport your readers to a new place of understanding and engagement. The writing should be invisible. To me, the best compliment is to hear a reader say, "Now I understand," or "This is very cool, I want to know more."
On a Personal Note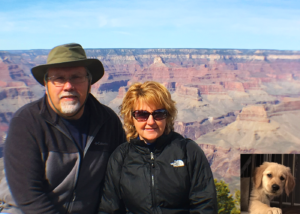 In 2016, we — my wife and our two grown children — moved to Surprise, Arizona, from Eastern Kentucky. While we've been to the Grand Canyon, we're just finishing our first full summer in The Valley of The Sun. Wow!
Recently, we adopted a golden retriever puppy. We're still in 'learning mode' with little Kiwi, but she's such a good girl already.
Since moving to Surprise, I'm enjoying a few new interests: pickleball, a funny name for a fun game; and radio-controlled sailboat racing. Year-round outdoors activities are just another advantage to living here.
My Professional Background
Freelance Content Marketing and Editorial Writer. 2002 – Present
Account Director, Borshoff Johnson Matthews PR Agency. 2001 – 2002
Regional Director, Corporate Communications & Public Affairs, CSX Transportation. 1998 – 2001
Communications Manager, Sea-Land Service. 1995 – 1998
Communications Specialist, CSX Corporation. 1989 – 1995
Directory Manager, Westar Publishing. 1988 – 1989
Reporter, Ironton Tribune. 1987 – 1988
Education
BA, Mass Communications, Anderson University, 1987
Associations